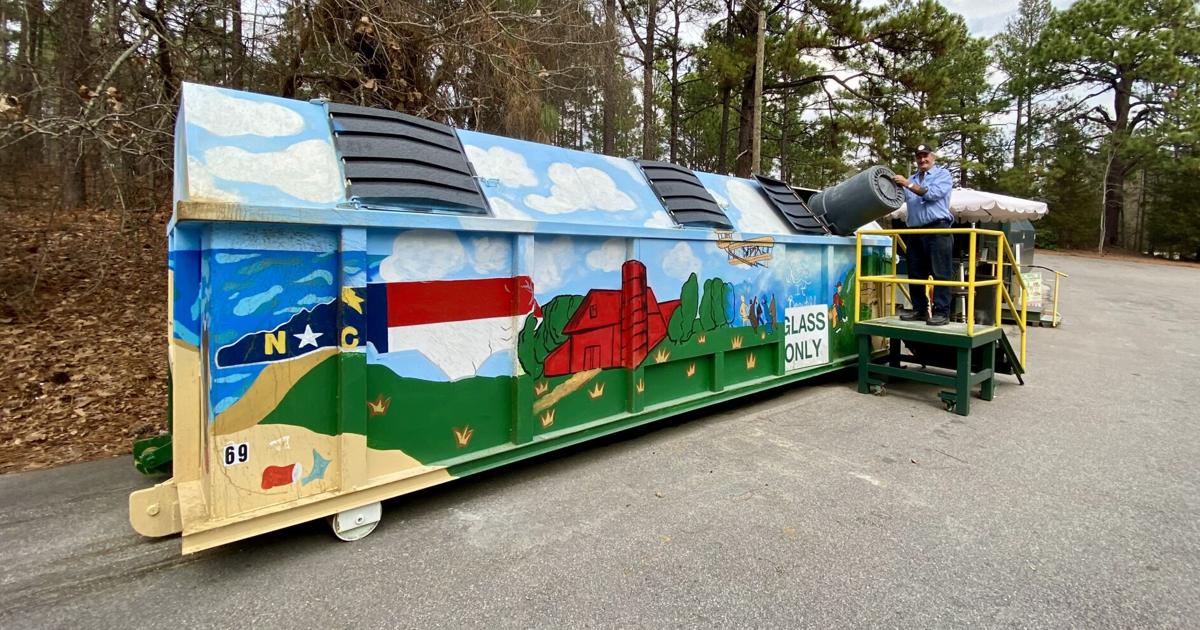 70 tons needed: a recycler works for a local non-profit organization | News
Now it will be easier for Moore County residents to see the positive impact their recycling habits are having on their communities.
The Moore County Solid Waste Department is partnering with county glass recycler, Strategic Materials Incorporated, to offer the opportunity to make a major donation to the Northern Moore Family Resource Center in Robbins.
SMI will donate to the nonprofit if residents can find 70 tons of recycled glass before Earth Day on April 22. Once SMI receives the glass, it will transport it to its Wilson plant to manufacture new products in North Carolina.
Clare Ruggles, executive director of the resource center, said the resource center will use the donation to support its preschool program in the Robbins community.
"We are grateful for this pledge of support for our program and our mission," Ruggles said.
Solid Waste Director David Lambert said the partnership was part of the county's "#RecycleMoore" campaign that launched last summer. The campaign aims to increase the amount of viable recycling by educating residents on standard rules regarding what can and cannot be recycled.
Lambert said the partnership is a "pilot project" for SMI, which hopes to inspire similar recycling efforts through donations in other communities if it takes off in Moore County. For this reason, Lambert explained, SMI hasn't given a specific amount for its donation, other than to say it will be "substantial."
SMI's regional supply manager, Tom Syre, expressed enthusiasm for the project.
"Our partnership is a representation of the collective good that comes from a united community," Syre said. "Donating to a program that helps others is our way of saying 'thank you' to the people of Moore County."
Lamber said the partnership with SMI was born out of several overlapping circumstances. For one, his department's contract negotiations with SMI were being updated so that the county could be paid for the clean glass it had sent to SMI for free. On the other hand, he had worked on several grants and petitioned the state environmental quality department for more glass recycling containers. He told her that SMI had a box of painted art that could meet this need.
Indeed, SMI loaned the county a hand-painted glass recycling container featuring several images of North Carolina landscapes. This vessel was painted by artist Shaquille Ellis, who uses the professional name "Phor". Ellis is a self-taught artist and muralist based in Anderson, South Carolina. He is a former athlete who turned to art to deal with mental health issues. He has built a reputation by partnering with grassroots entities including boutiques, hotels, bars, distilleries and restaurants to bring art where it would not normally be found.
Lambert said "it feels really good" to have the box. He hopes the program will inspire people to go the extra mile when it comes to recycling.
Recycling is tricky at first, but when you add glass to the mix, things get even trickier. Glass must be separated from plastic and cannot be included in separate collection lots. Southern Pines residents can include glass in their recycling piles, but Lambert says the glass won't go toward the donation. It can also be difficult to separate mixed glass from plastic, so he suggests all county residents follow the same steps for glass recycling.
The county offers seven locations to drop off your glass recycling. But if you want to see some vibrant – albeit unexpected – public art, you can visit the painted box at the West End/Seven Lakes site, 605 Love Grove Church Road. Glass can also be dropped off at these collection points:
• 276 Cranes Creek Road, Cameron;
• 5361 US 15-501, Carthage;
• 364 Eagle Springs Road, Eagle Springs;
• 10496 NC 24-27 West, Carthage;
• 456 Turning Leaf Way, Aberdeen; Where
• 1465 Leaman Road, Robbins.