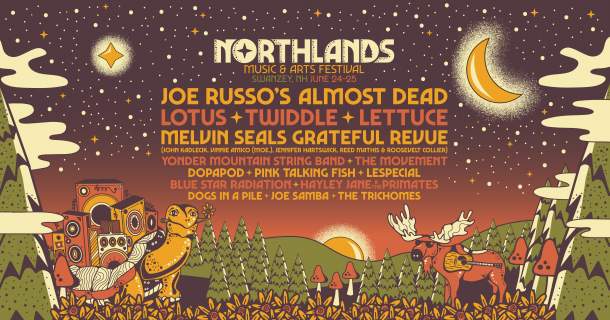 The Northlands Festival offers a weekend of music, food trucks, craft vendors, art and more!
Northern Lands is gaining momentum and promises to be the biggest event in the region, with 15 groups on several stages.
"We are very excited about this year," says Northlands manager Seth McNally. "We curated a fantastic diversity of genres, basically an entire season of dynamic bands and lined them all up for a fantastic weekend of music."
Located just across the border from Massachusetts, the Northlands Festival aims to bring the joy of personal connection through music and the arts to the community of Swanzey, New Hampshire.
The roster of artists to grace the Northlands Music & Arts Festival stage includes JOE RUSSO'S ALMOST DEAD, LOTUS, TWIDDLE, LETTUCE, MELVIN SEALS GRATEFUL REVUE (featuring JOHN KADLECIK, VINNIE AMICO (MOE.), JENNIFER HARTSWICK, REED MATHIS & ROOSEVELT COLLIER ), YONDER MOUNTAIN STRING BAND, THE MOVEMENT, DOPAPOD, HALEY JANE & THE PRIMATES, PINK TALKING FISH, LESPECIAL, DOGS IN A PILE, JOE SAMBA and THE TRICHOMES.
To soak up the full adventure, festival-goers will also be immersed in on-site camping, installation art, performance art, eclectic local food trucks, a diverse beer garden, satellite bars, local artisans, inspiring lighting, pleasant vibes and more! At its roots, Northlands began as a community project born out of the pandemic. This initial spirit has now turned into a mission to be an economic engine for the local economy by hiring local production and operations teams to work the festival, as well as focusing on local vendors of foods and crafts.
"I love all the exciting additions that will enhance everyone's experience," said Mike Chadinha, Northlands COO. "Triple food trucks, cool craft vendors, music workshops, artists creating amazing installations ranging from huge stretched fabric canopies to wooden sculptures to huge live-paint murals during the festival. Pop-up jams, a chic new VIP area, multiple green initiatives… the list goes on and on.
Northlands continues its sustainability initiatives through locally sourced food, recycling programs, elimination of single-use plastic bottles, partnership with saveRcup for reusable cups, free refillable water stations, and more . There will again be a charitable component this year, similar to last year's partnership and donation to Music Drives Us, a nonprofit that puts musical instruments and programs into local public schools.
All tickets and passes are on sale now. More information and tickets can be found online at www.northlandslive.com.