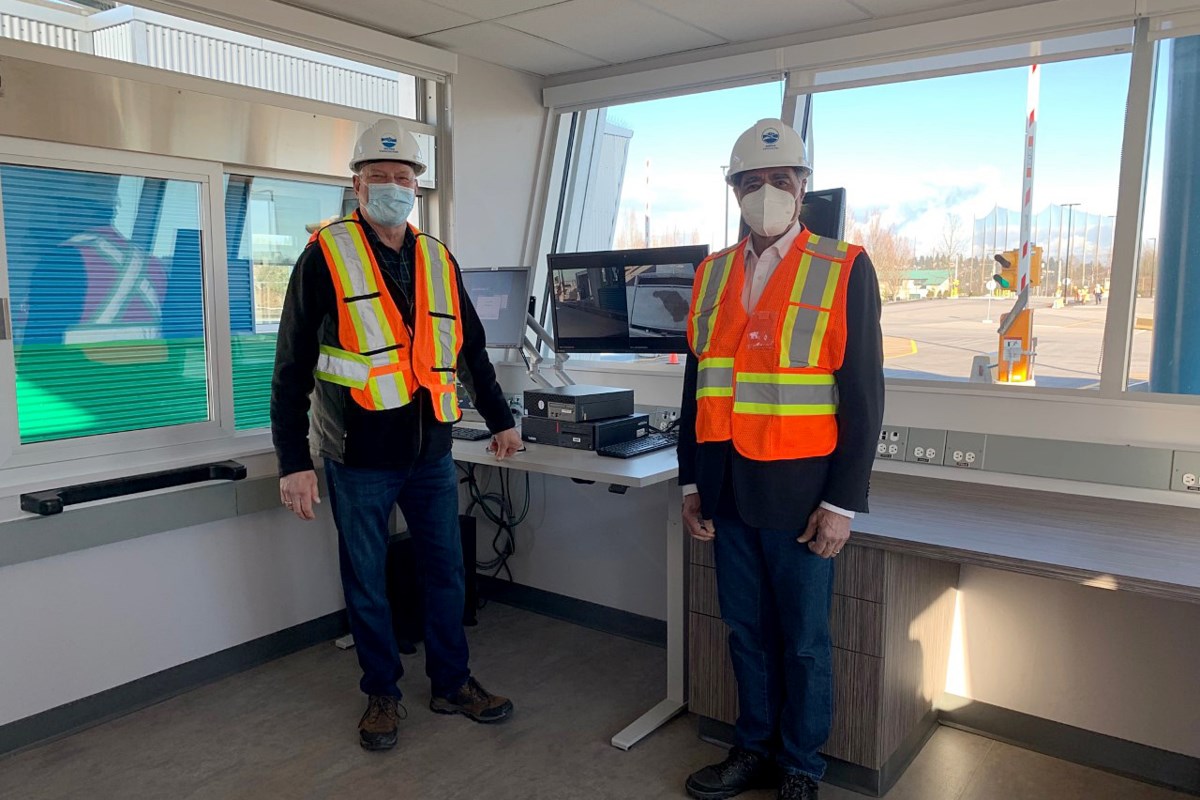 Where is the new transfer station in Coquitlam?
The construction of Metro Vancouver's new transfer center on United Boulevard in Coquitlam cost $77.6 million.
How to cover an old landfill?
For Metro Vancouver, the regional agency used bottom ash from its Energy recovery from waste Burnaby plant to complete the decontaminated sites in Coquitlam.
A total of 70,000 tons of non-combustible material was used as aggregate to layer its site on United Boulevard for the new transfer center, a $77.6 million facility – funded by tipping fees – which is opening officially on Monday (March 14) for residents and businesses to drop off and recycle.
Located one mile west of the existing transfer station, also on United Boulevard, the new building is 2.5 times the size and billed as the most advanced in North America.
"It's a one-stop shop," Metro Vancouver general manager Jerry Dobrovolny told the News from the three cities last Friday during an exclusive visit with Council Speaker Sal Dhaliwal, a Burnaby Councilman, and Jack Froese, Langley Township Mayor and Metro Zero Waste Committee Chairman.
"We expect to see up to 700 vehicles a day coming here to drop off garbage and recycling. This will serve our region well.
Around 40 employees will work at the new transfer site, and 35 employees will leave the old centre. This building is located on land rented by the Beedie group, which proposes to redevelop the area for a riverside community paying tribute to the heritage of the Fraser Mills sawmill.
The existing transfer station is three to five years past its life cycle and will close on Saturday evening (March 12).
"Everyone is very happy to move," said Paul Henderson, general manager of solid waste management services at Metro.
Situated on 15.5 acres, the new facility sits on land owned by the Regional District and is therefore exempt from city property taxes.
In fact, Henderson said, the new site is so large that residential and commercial vehicles can be separated on site to head to scales or the recycling depot. At the current station, vehicles often spilled onto United Boulevard to queue to drop off unwanted goods.
It will be open every day except Christmas and New Year's Day from 5:30 a.m. to 6 p.m. and "anyone in the area can use it," Henderson said.
HOW TO ENTER
On the east side there is a free recycling depot – including a Return-It Express – to drop off items such as glass, used motor oil, batteries, CO2 and smoke detectors, bulbs and used cooking oil.
In the middle are the scales for small vehicles, as well as commercial and municipal vehicles, with state-of-the-art recognition technology for fast processing.
And, to the west is the Transfer Building, a 60,000 square foot flat space (about double the building's current size) that is gated to keep birds out.
In addition, vents are on the roof to control dust and odors.
There, visitors will deposit their waste on the floor of the transfer station with loaders pushing the bags into a chute on the floor, which connects to the compactors below.
Henderson said he expects to see about 30 truckloads of compressed material shipped to processors daily. "It's a much better setup than what we have on the street now," he said. "And there's a lot of room for us to grow."
DIVERSION RATE
Yet as Metro Vancouver builds new transfer stations across the region — including in central Surrey, where a smaller facility is due to open this year at 6711 154 St. — it is also struggling with diversion rates.
The agency hopes to divert 80% of the region's solid waste from landfills; however, the current rate is 64% (Coquitlam's diversion rate is 71%, according to city staff).
"We have the highest rates in North America, but we've been stuck for a few years," Dobrovolny acknowledged. "Since last month, we have refundable milk containers and we allow mattresses for a $15 fee, but we need to continue to be more innovative. The problem is that we have a global economy and the packaging keeps piling up. We want to promote locally made products to reduce waste.
Another challenge for Metro Vancouver is trash in multi-family buildings, many of which don't have separate trash cans and recycling bins, Dobrovolny said.
"Most people want to do the right thing, but they can be lazy, so it's not done," he said. "That's why this facility is so important."
"It's all there," he said.